Several programs have been set by Al-Muthanna University to encourage staff and students to recycle and reduce waste. Some of these programs related to paper and plastic usage. Others are related to materials used in laboratories. In addition, some policies have been placed to promote using reusable plates and glasses to reduce the number of disposable materials across the university. Furthermore, an agreement has been established between Al-Muthanna University and some personals, who do charity activities, to collect used cloths and shoes and deliver them to those in need. As a result, a clothing collection bin has been installed, and advertisement has been spread among staff and students to raise awareness and encourage them to donate some of their unwanted second-hand clothes.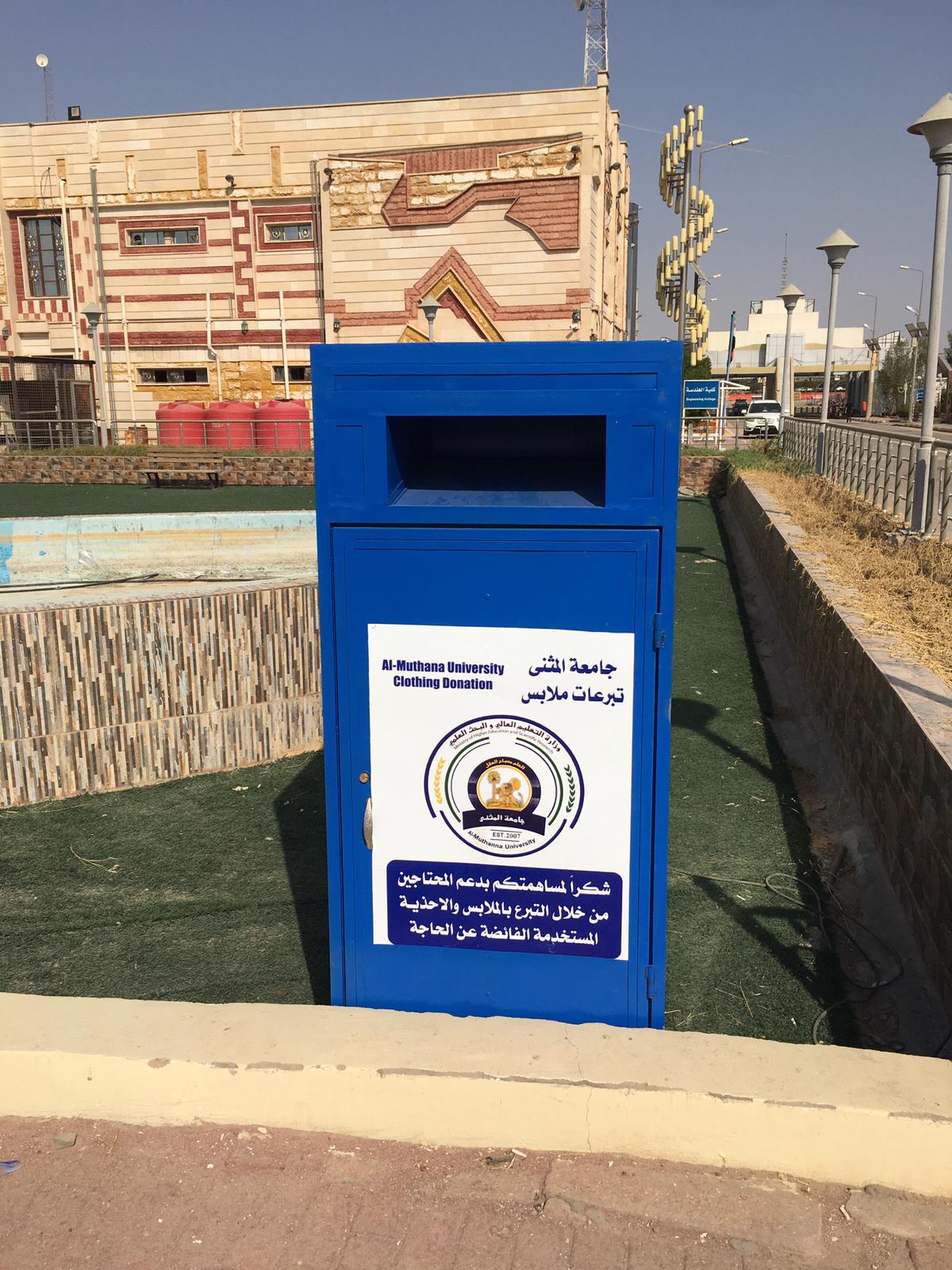 Authorities at Al-Muthanna University have been paying attention to the issue of paper and plastic usage and how it affects the environment. As a result, some programs have been established to reduce the use of paper and plastic on campus. Those programs help to decrease CO2 emissions, which leads to a cleaner environment.
In general, more than three programs have been in order to help in making our plant better place to live in. Some programs related to paper use and others deal with plastic use.
For the first category programs, some instructions and guides have been established among campus' offices such:
Think before you print and only print documents when it is absolutely necessary.
Double-sided printing.
E-meeting system (no paper is used for meetings details and announcement).
Re-use paper if possible (single-sided false printed paper to be used again).
Unsubscribe from unwanted mail.
Moreover, the following programs have been utilized to raise awareness about plastic use reduction at Al-Muthanna University:
Free water distribution (to reduce plastic bottle use).
Reusable cups for drinking.
Reusable plates for eating.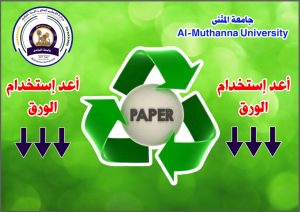 Organic waste bins are allocated inside and around all buildings of Al-Muthanna University. These kinds of wastes are treated in collaboration with a government department – the Municipality of Samawah City. These wastes are collected and carried out of campuses of Al-Muthanna University by their garbage trucks. After that, they do the treatment of such wastes according to the collaboration deal with that government department.
Some scientific laboratories at some colleges of Al-Muthanna University produce some toxic waste. Some special bins are placed inside those laboratories to collect and store such wastes. Those containers are classified and labelled clearly so everyone can store every type of the toxic wastes in the right bin. Students and researchers at those laboratories are trained and given instructions on storing such wastes by trained technicians. After that, documents are filled to comply with national and regulations to prepare the wastes until they are picked up by the authorized Company and then treated by the same company.
Sewage disposal at Al-Muthanna University is directed through hidden channels to be stored at watercourses, and then treated technically. After that, it goes for a garden sprinkler system.